From a tiny house on the Madawaska River to a Mongolian yurt just north of Deseronto, here are 8 glamping retreats in Hastings County redefining the meaning of roughing it.
Riverside Tiny House | Madawaska River
If you've ever wanted to experience tiny-house living, this secluded forested oasis near the mighty Madawaska is a great choice. Ideal for one or two people, the wood-paneled interior has a wood-burning fireplace, one mattress in the tiny loft, a second mattress downstairs that doubles as a couch, a composting toilet, and a small kitchen with a gas stove and sink. Outside is the shower, firepit, hammock, and outdoor dining area. The Madawaska is just a short trail walk away, where you'll only find one other cabin across the river.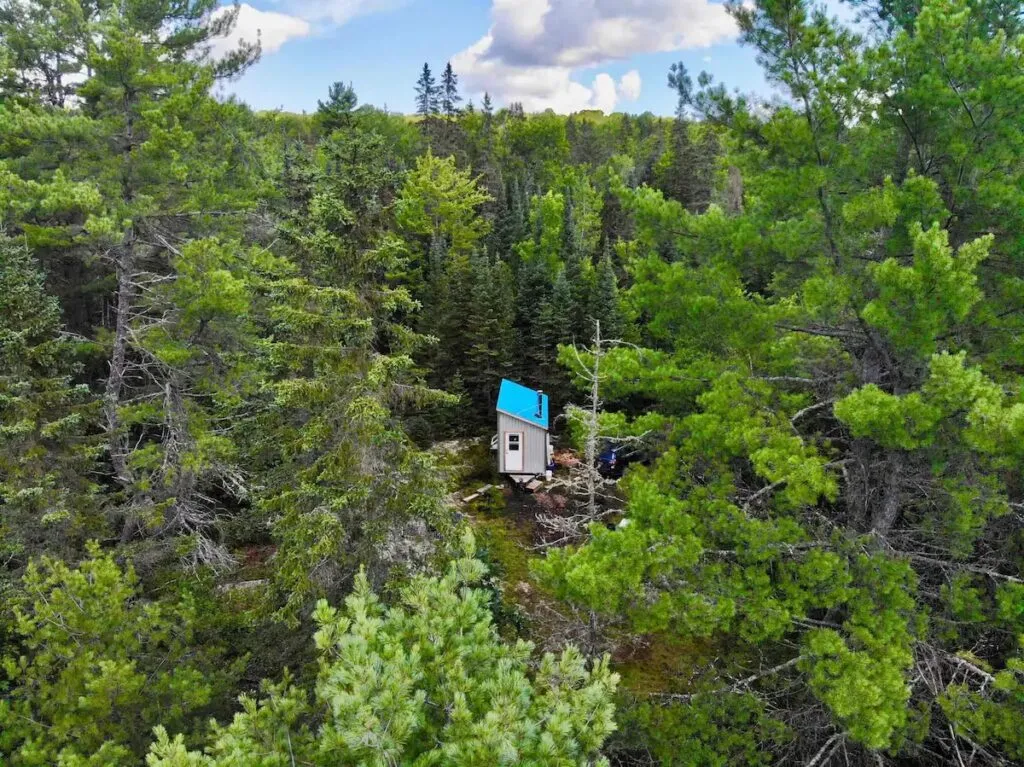 A-Frame Near Algonquin Park | Little McGarry Lake
This small A-frame with high ceilings sits on a peaceful lakeside property west of Maynooth. It sleeps two people and comes with a propane fireplace, small loft space, deck with a barbecue, and firepit. The modern washrooms are a short walk down a trail, as is the private dock on 1600 feet of waterfront. A canoe is available for free during the summer, while complimentary snowshoes are offered in the winter. Twenty-eight acres of hiking trails and hundreds of hectares of crownland are always at the ready.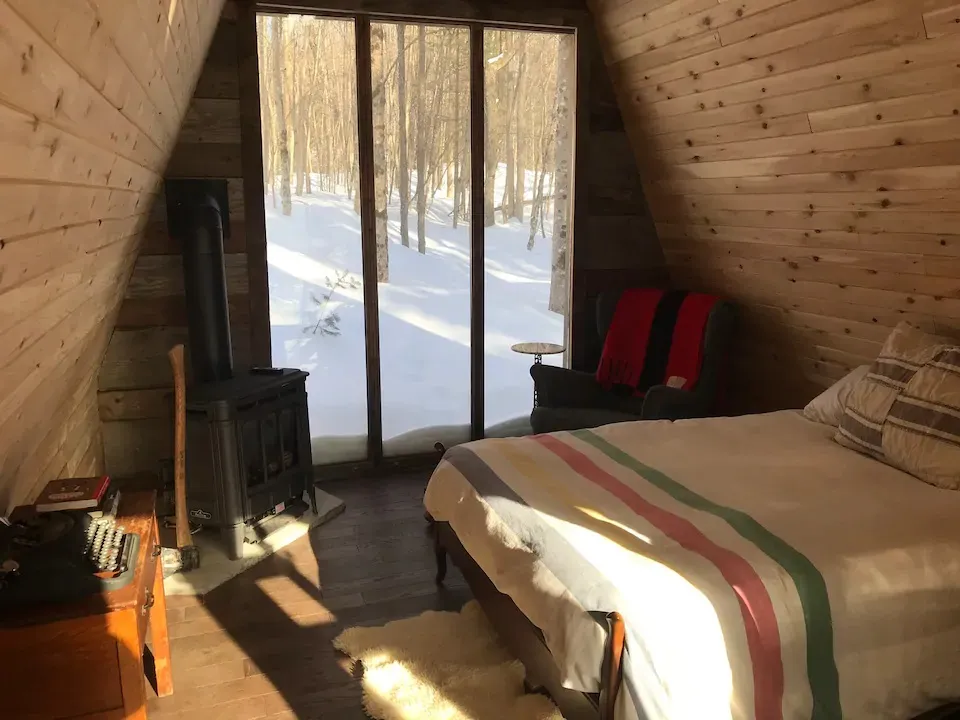 Cabin in the Trees | Musclow
No doubt you'll become one with the forest at this 10-acre property near Bancroft, especially after a night in the top-floor bedroom of the newly-built cabin. Perfect for one or two people, the off-grid abode features a woodstove, wraparound deck, outdoor shower, outhouse, and a screened-in space with the kitchen and dining area. The two-person hammock is the perfect spot to stare off into the canopy and breathe deep.
Eco Forest Cabin | Albion Lake
Here is another forester's paradise located near Bancroft, where you also get access to beautiful Albion Lake. The small, modern cabin has a loft, sleeps three, and is outfitted with a porch that's perfect for birdwatching. There is a barbecue and washing station outside, as well as a firepit, outdoor tap for drinking water, and outhouse. You'll be sharing the property with a cottage, but you'll have full access to the lake, including a canoe that's available to rent for $20/day.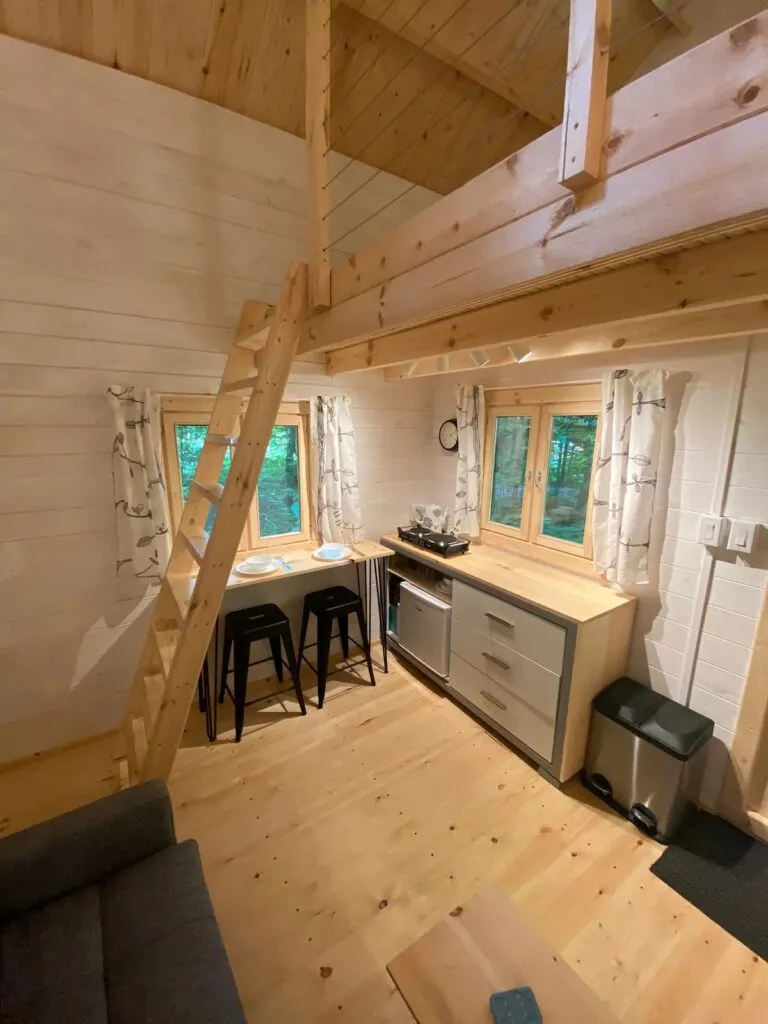 Solar-Powered Compound | Gilmour
There are actually three places to lay your head at this gorgeous 13-acre lakeside property: a main cabin, a yurt, and a bunky. Sleeping eight people in total, all of the dwellings are solar-powered. The main cabin has running and drinkable water, a fridge/freezer, a propane stove, an outdoor shower, and an outhouse with a compositing toilet. The yurt has a kitchenette and an indoor bathroom with a composting toilet, while the bunky has an outhouse. With lots of deck space and a big dock, this is the perfect spot for a unique group adventure.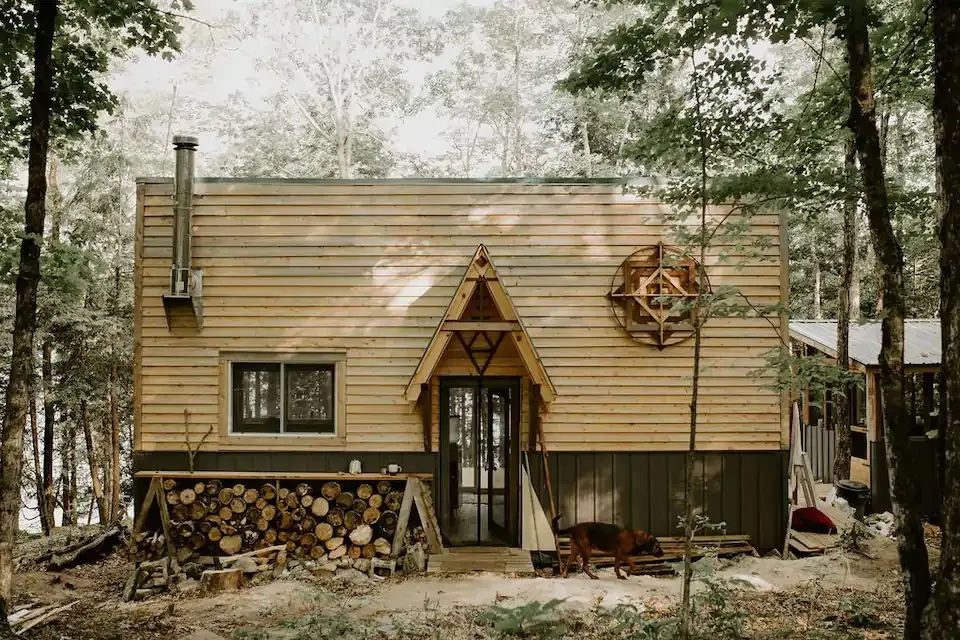 Canvas Tenting at Stoco Lake Lodge | Tweed
From hotel rooms to campsites, Stoco Lake Lodge is known for having accommodation options for everyone. Now that also includes glampers. Lakeside bell tents are clustered throughout the property and come with a deck, firepit, queen-sized bed, and fine linens, towels, and robes. The sandy beach is the big draw here, but there is also a restaurant and bar onsite, as well as a spa. Fishing boats, Sea-Doos, kayaks, and paddle boats are available to rent.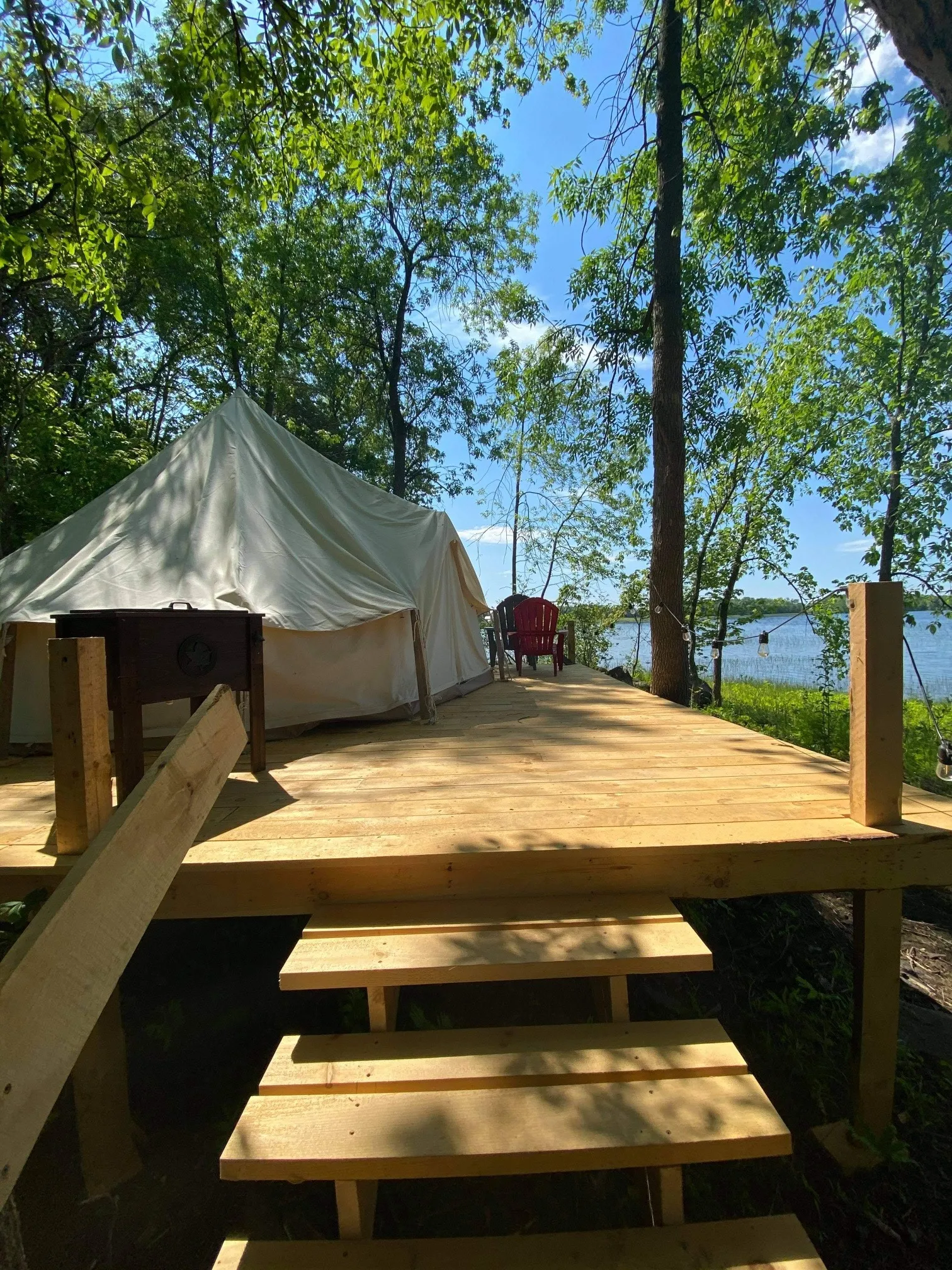 Riverfront Egg Camper | Moira River
Go retro in a 1970s trailer located on a private beach in the pines. Though small, the yellow egg has everything two people need for an elevated off-grid camping experience, including a double bed and a kitchen. There is a firepit and outhouse here as well, plus a hammock and screened dining tent with a cooler. The propane barbecue is sufficient for a feast, but just make sure you take a load off afterwards in the Adirondack chairs with the river lapping around your ankles.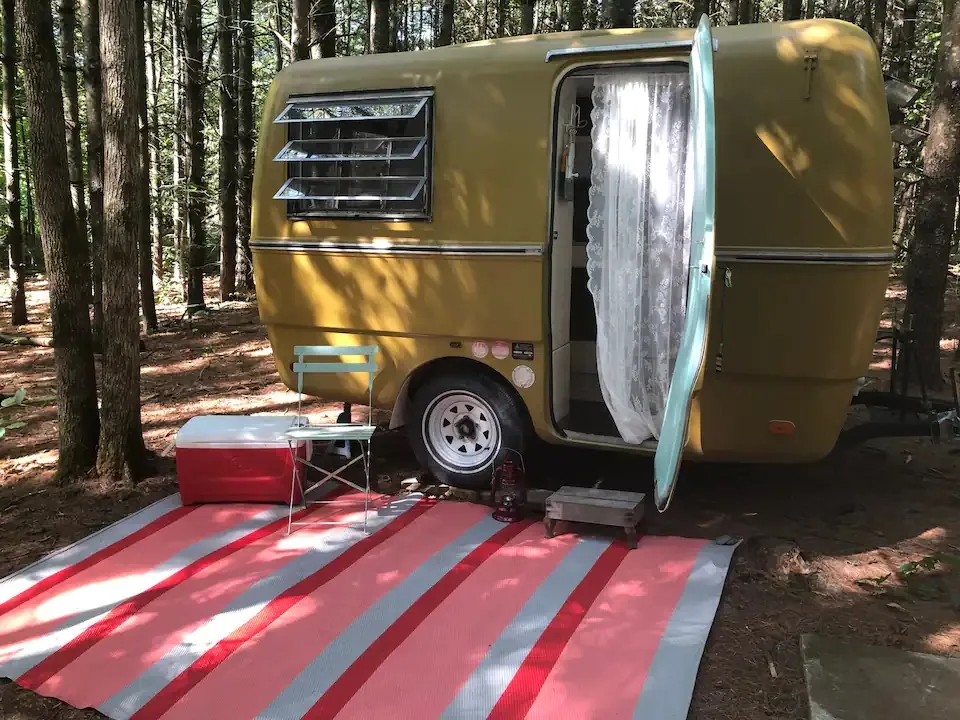 Glamping on the River | Moira River
Not far from the egg camper sits another glamping option on the Moira River. This one is a 16-by-16-foot canvas tent situated on a large property with several kilometres of wooded nature trails. The tent comes with a double bed, but you can add two available camp cots. The rest of the site has an outdoor kitchen with a barbecue and coolers, as well as a bathroom with a hot shower and a chemical toilet. The river area is a short walk away, but you'll find a table, chairs, and barbecue there so that you can just chill riverside all day long.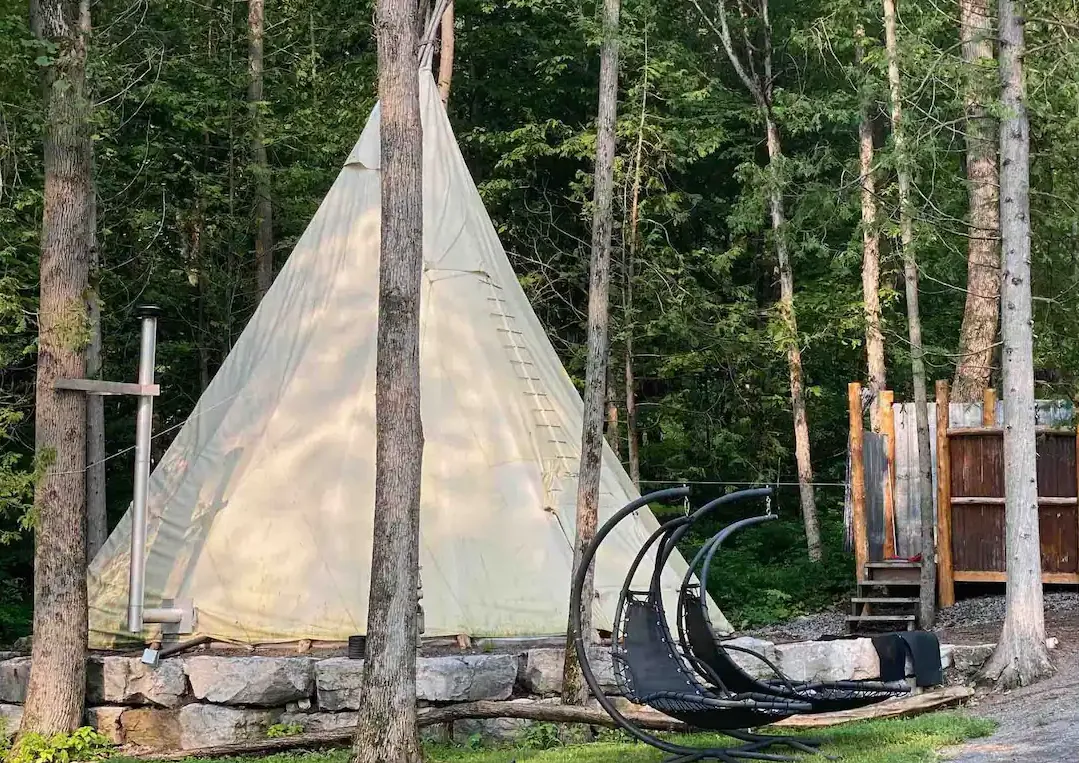 Want a few more unique options?
Here are 5 other glamping getaways in Hastings County.
Authored by:
Jordan Whitehouse