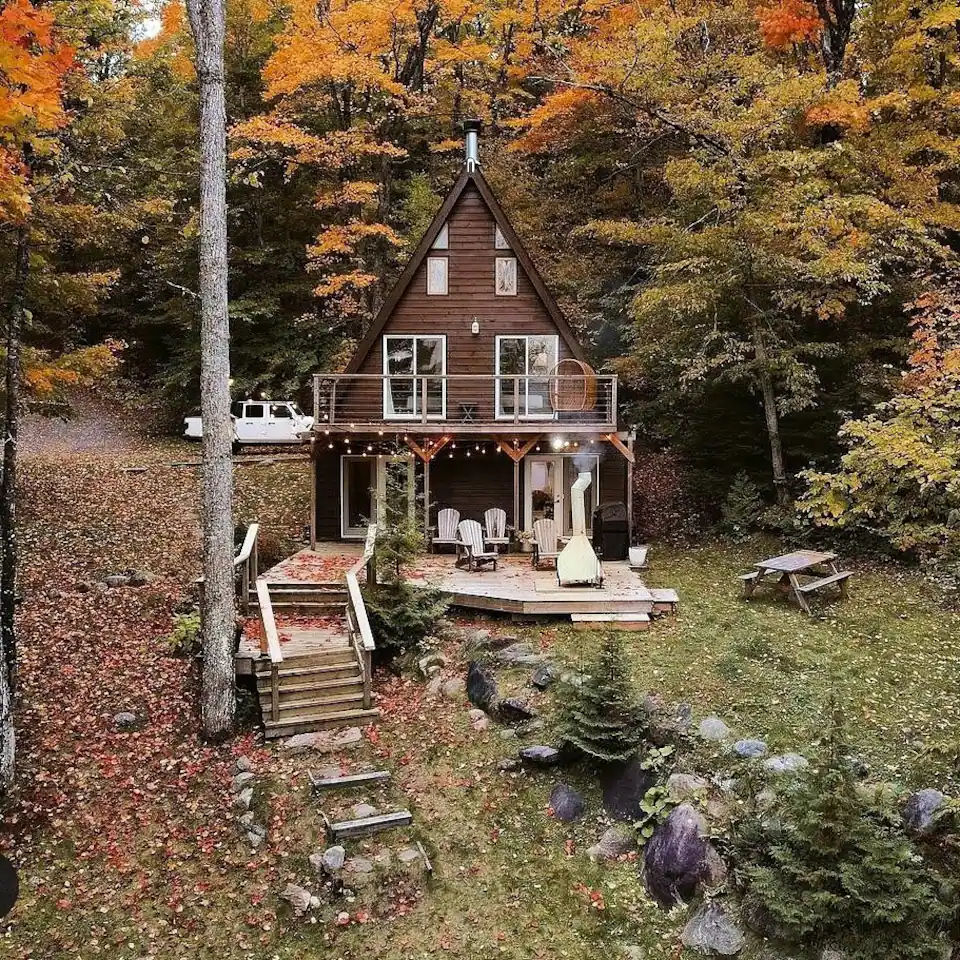 With its fiery leaves, spiced drinks, and cozy vibes, fall is probably the most romantic season we have. So if you're feeling all that love and longing for a night or two away with someone special, keep reading. From snug cabins with hot tubs and saunas to a three-storey A-frame on a lake, these nine Hastings getaways definitely bring the heat.
Black River Retreat
Location: Tweed, Ontario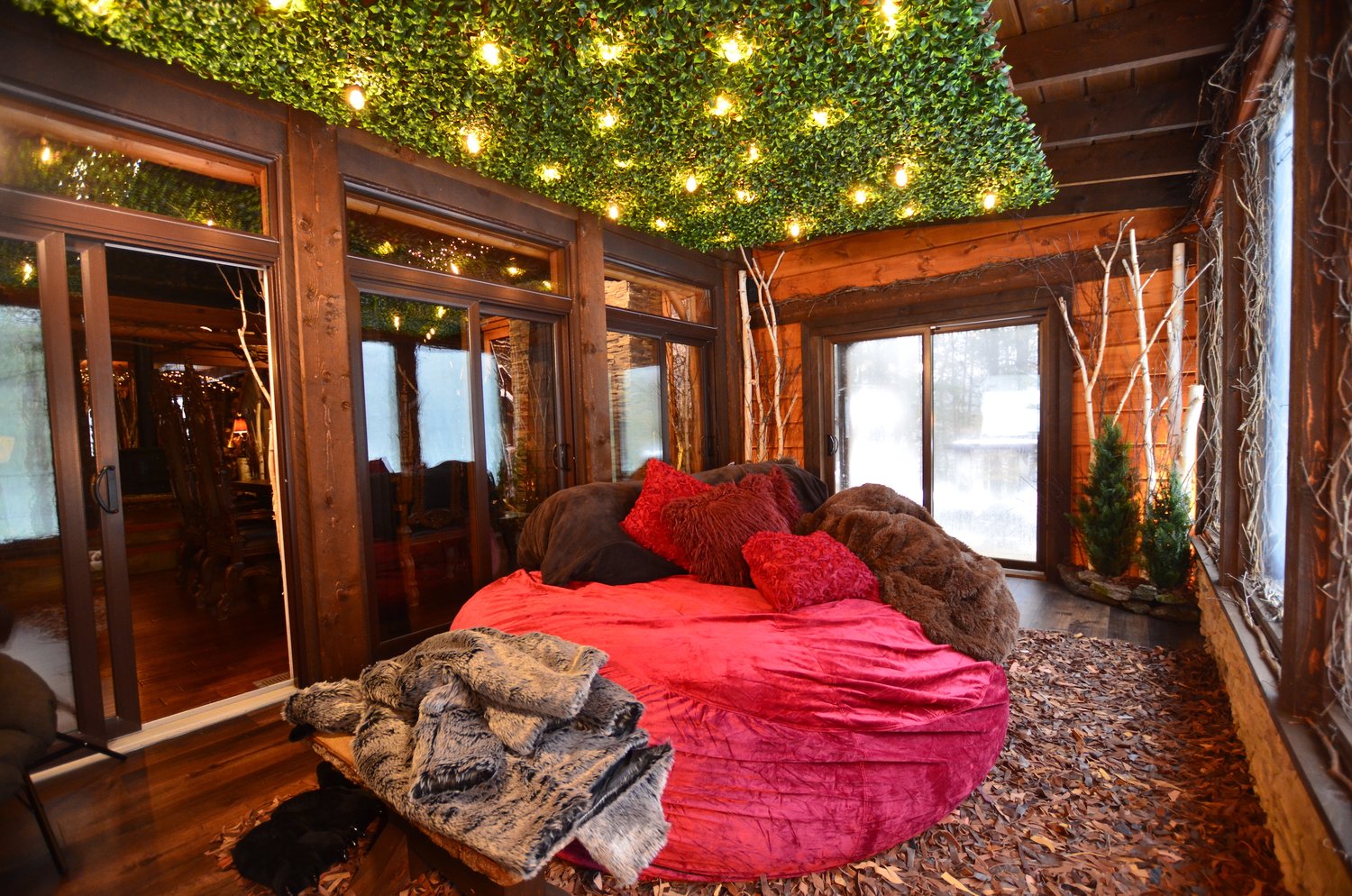 Nuzzled along the tranquil Black River on six acres of woodland trails, this private luxury resort caters to just one couple at a time. Inside, the woodland suite features a fireplace, a queen log bed, and an oversized shower. In the dining room, you'll be served four-course dinners and gourmet breakfasts prepared by your own personal chef. Outside, go hiking or kayaking, or just lounge in the cedar hot tub. But don't forget to find your love lock. Legend has it that if you lock it in the forest and throw the key in the Wishing Pond, your love will last a lifetime.

Starting at $550/night

Learn More and Explore: www.brrtweed.com

Cozy Cabin for Two
Location: Harcourt, Ontario
Bed and bath: 1 bedroom, 1 bathroom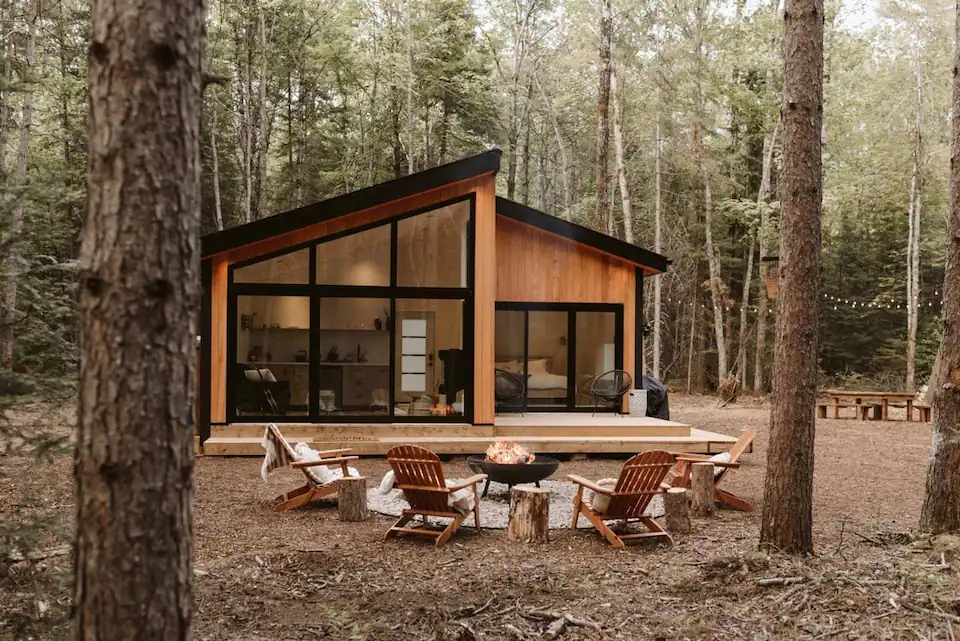 With its two acres of mature pine forest, this sleek, Scandinavian-inspired cabin with outdoor sauna gives tons of privacy. The 440-square-foot cabin itself is a light-filled, open-concept space with a fully stocked kitchenette, one bedroom with a queen bed, and a modern bathroom with a rain shower. The floor-to-ceiling windows look out to the deck, firepit, and wood-barrel sauna. You'll also find a covered lounge beside the sauna — perfect for cooling down and cozying up. If you can tear yourself away, use the provided Ontario Park Pass to check out nearby Silent Lake Provincial Park.

Starting at $309/night
Learn More and Explore on Airbnb

Meadow Dome
Location: Maynooth, Ontario
Bed and bath: 1 bedroom, 1 bathroom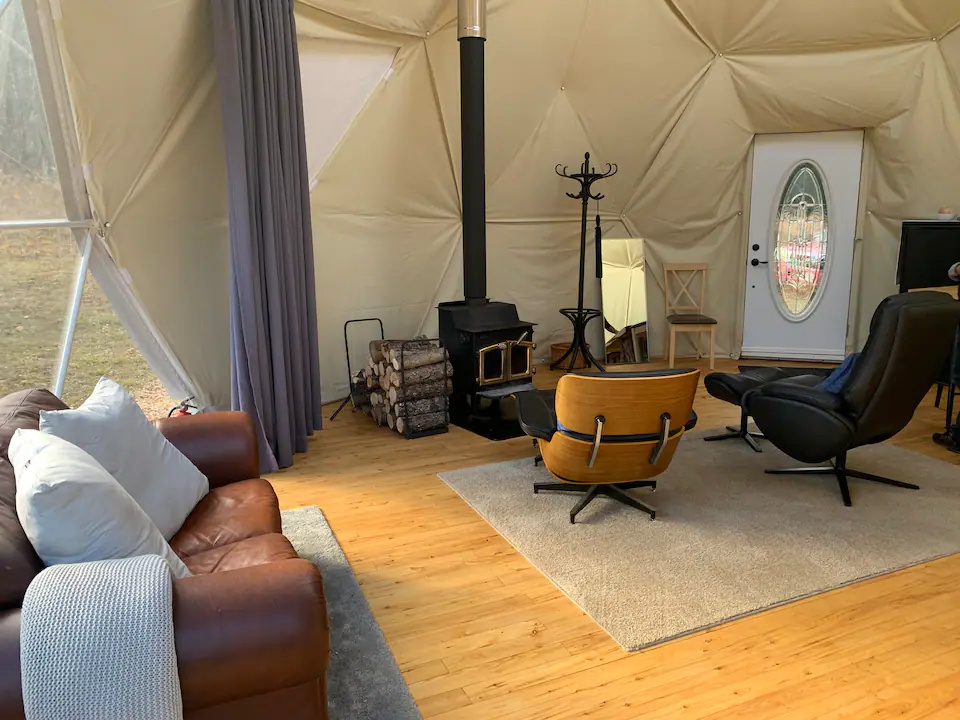 Unless you're pitching a tent, you won't get any closer to nature than inside this unique geodesic dome near Maynooth. But don't worry: this 540-square-foot abode brings plenty of glam and romance. Think double bed, contemporary furnishings, simple kitchen, woodstove, movie projector, and wood floors. It sits in a private meadow on 98 acres of trailed forest, and also comes with a cedar sauna, wood-fired hot tub, and outdoor fire pit. There is an outhouse. You'll be the only guests on the property, but if you need a little civilization, Maynooth and Bancroft are just a short drive away.

Starting at $297/night

Learn More and Explore on Airbnb

RV Glamping
Location: Deseronto, Ontario
Bed and bath: 1 bedroom, 1 bathroom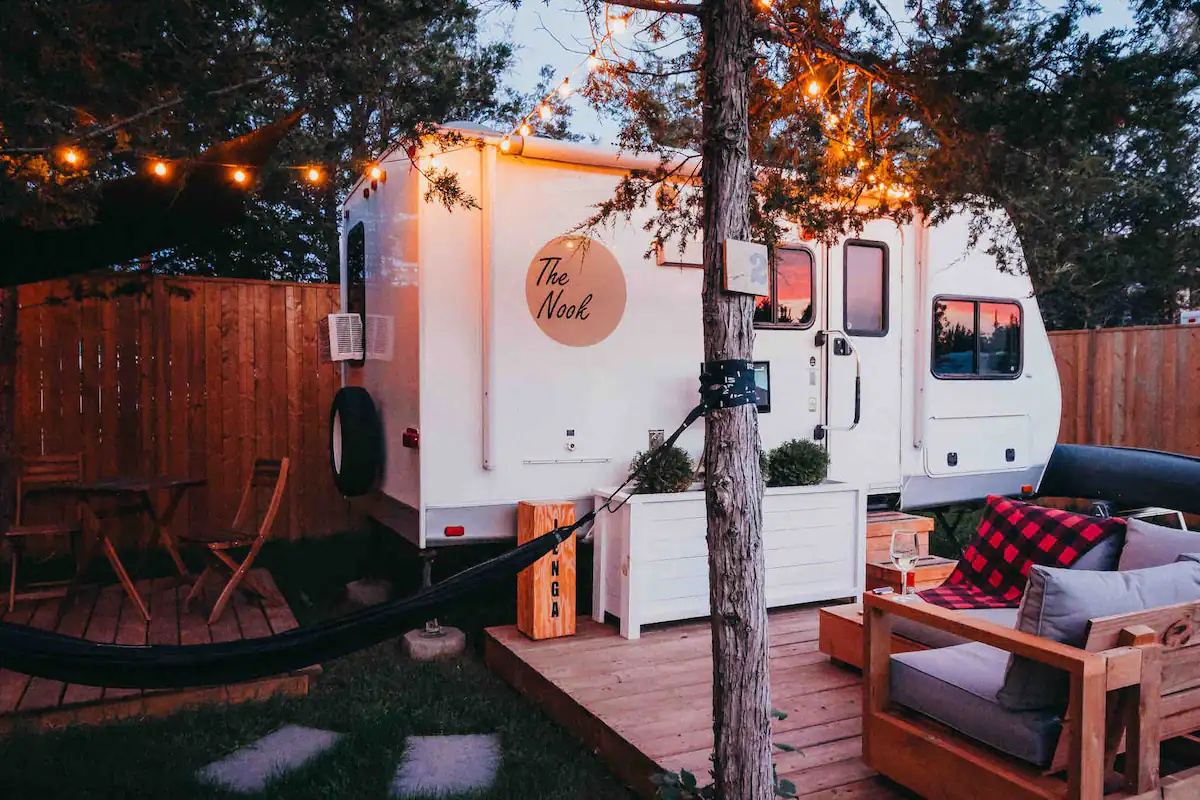 Like the Meadow Dome, staying in this contemporary RV is another great way to get up close to nature without sacrificing those romantic comforts. You'll find it in a small RV park near the Skyway Bridge, so it comes with water views and access. The big draws are the outdoor soaker tub and rainfall shower, but you might spend most of your time lounging on the wood deck beside the firepit with a glass of wine in hand. Inside, it's a clean and modern design with a fully stocked kitchen, full bathroom with shower, new queen mattress, and entertainment centre with surround sound inside and outside the RV.

Staring at $129/night

Learn More and Explore on Airbnb
Lil' Crow Cabin
Location: Tyendinaga Mohawk Territory
Bed and bath: 1 bedroom, 1 bathroom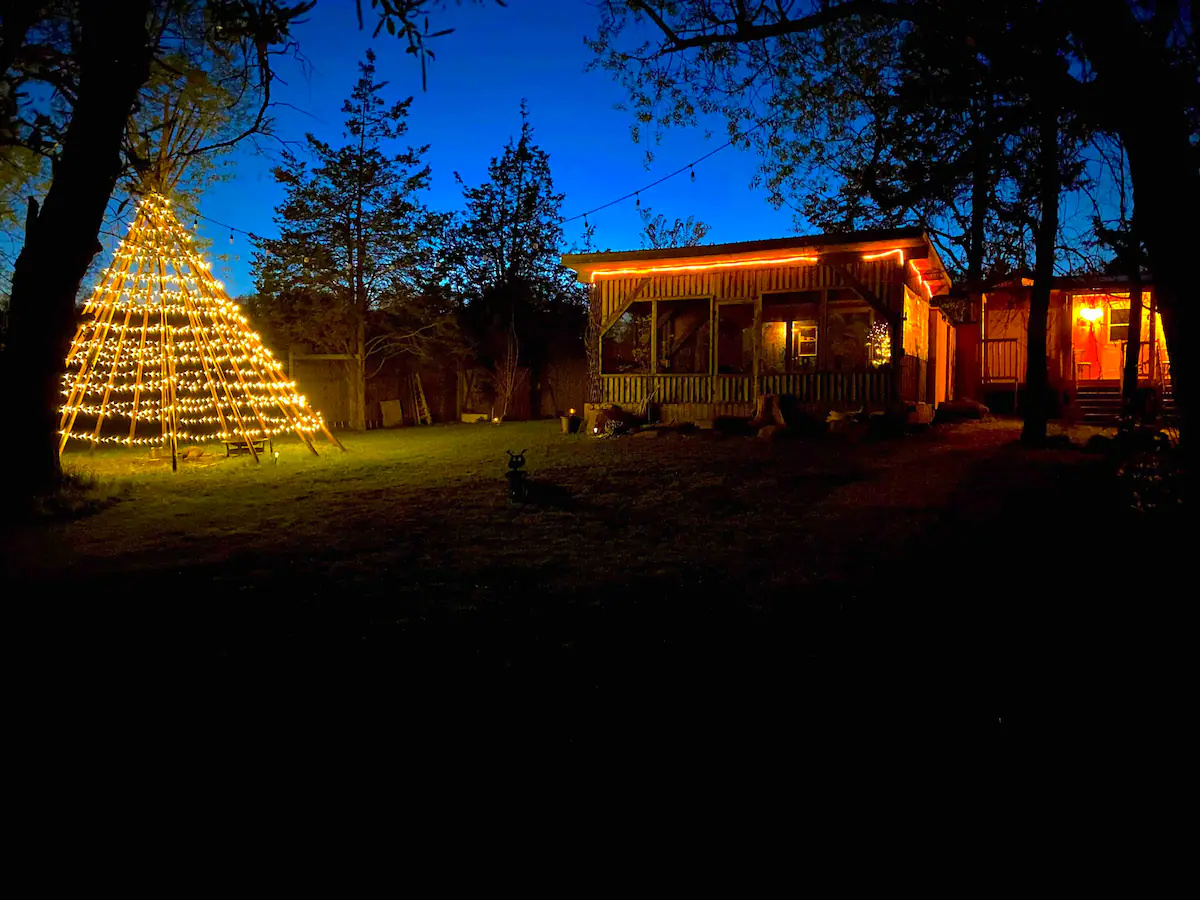 What was once a bistro café has been transformed into this retro cabin on the shores of the Bay of Quinte. It's part of a small, adults-only resort, but you'll have plenty of privacy, including your own courtyard with a hot tub, yoga space, gazebo lounge, barbecue, and fire pit. The cabin has a kitchenette with a breakfast nook; an open-concept dining, entertainment and bedroom area with a queen bed; and a small sitting room with a sofa bed. When you aren't star-gazing or enjoying the hot tub, check out the nearby Indigenous art galleries, shops, and restaurants.

Starting at $299/night

Learn More and Explore on Airbnb
Romantic Cabin
Location: Stirling, Ontario
Bed and bath: 1 bedroom, 1 bathroom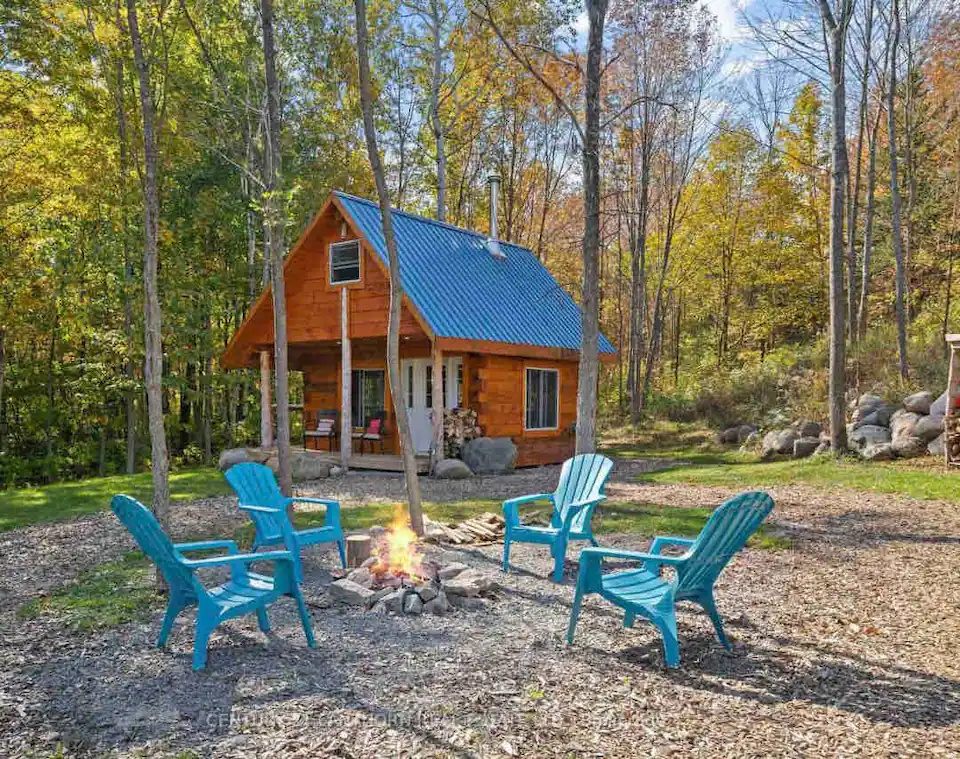 Simplicity is at its finest at this newly built off-grid log cabin just east of Stirling. You'll find it nestled in the woods after a short walk from the parking area, but before you step inside, just take a deep breath. The peace, quiet, and fresh air are what shine here. The cabin has a woodstove, fully stocked kitchen with a gas cooktop, full bathroom, pull out couch, and a double bed in the loft area. Start the day with a French press on the porch, then just slowly see what comes. The surrounding area has wineries, cideries, cheese shops, conservation areas, and more. There are also 20 acres of trails on the property itself.

Starting at $160/night

Learn More and Explore on Airbnb

Solar-Powered River Retreat
Location: Marmora, Ontario
Bed and bath: 1 bedroom, 1 bathroom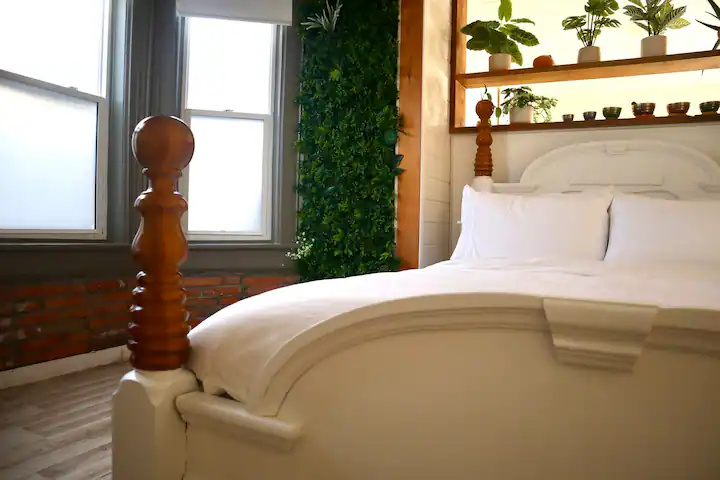 If your idea of romance means being closer to civilization, try this fully solar-powered Airbnb in the heart of Marmora. Freshly renovated but located in a historic brick home, the unit has its own entrance, front porch, and backyard with a hot tub in an old small barn. Inside, you'll find a comfortable living area with a flat-screen TV, full kitchen, and, as one guest put it, "cloud" bed. Chances are, though, you won't spend too much time inside. The Crowe River is right across the street (ask the host for a kayak or paddleboard rental), and there are great local shops and restaurants nearby.

Starting at $71/night

Learn More and Explore on Airbnb

Rose-Eh Chalet
Location: Harcourt, Ontario
Bed and bath: 3 bedrooms, 1.5 bathrooms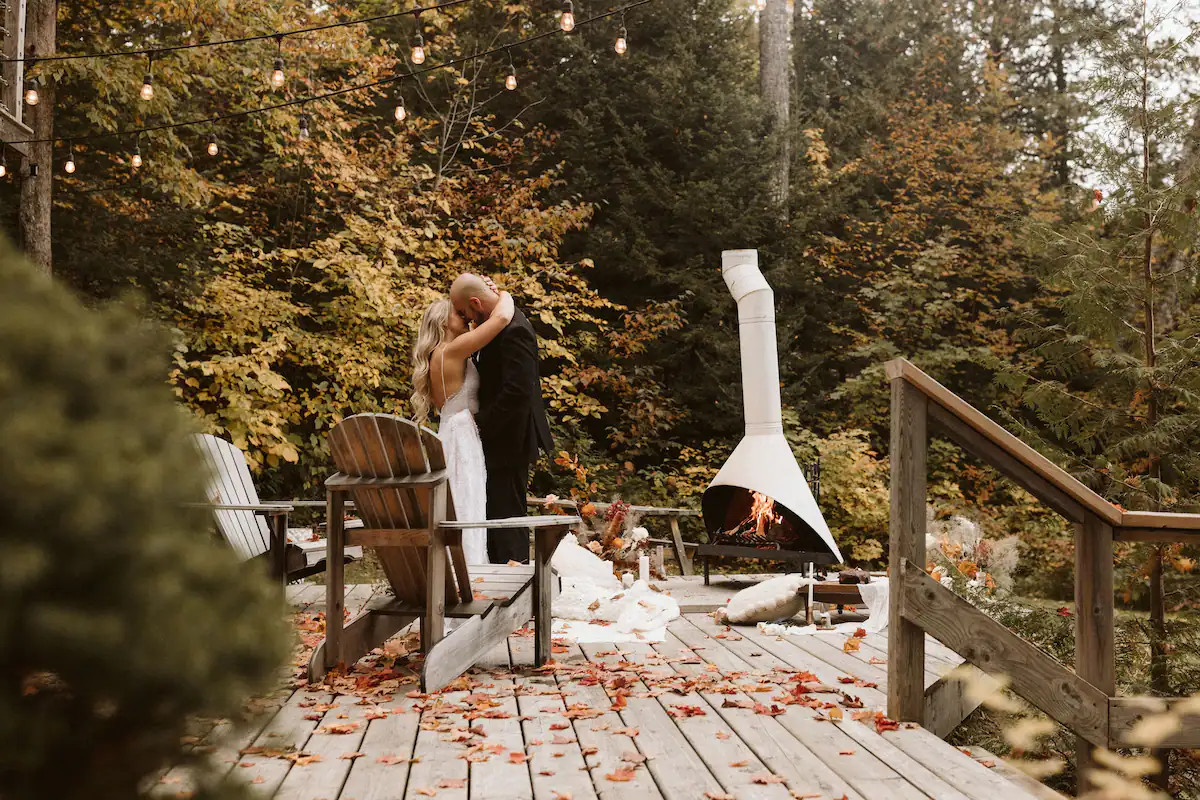 For a more spacious romantic time in the woods, this three-level A-frame has you covered. You'll find it on a small lake south of Bancroft with two decks, an outdoor fireplace, an indoor fireplace, and a large dock. The modern kitchen and living room are on the first floor, while the two bedrooms and spa-like bathroom are on the second floor. The third-floor peak of the A-frame is a bright loft perfect for curling up with a good book or your sweetheart. Outside, launch a kayak, canoe, or peddle boat — or just chill in an Adirondack chair on the dock with deep breaths of fresh forest air.

Starting at $250/night

Learn More and Explore on Airbnb