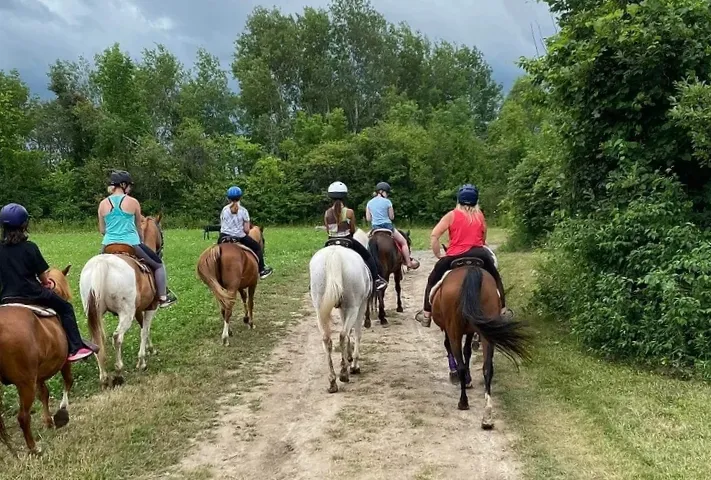 We consider ourselves to be very fortunate to own such an amazing piece of property. Our 140 acres boasts 3 ponds, hay fields, cedar, pine and hardwood bushes as well as the Trans Canada Trail running right through the middle of it all! We back onto 800 acres of land owned by the Crowe Valley Conservation Authority and we are only a few minutes away from the most picturesque waterfalls at Callaghan Rapids. (We know there are caves you can explore down there as well, but have yet to find them ourselves...) This is a wonderful spot for families to bring their children or to have a romantic picnic on a secluded rock on the water. (We recommend bringing water shoes).
​
Our trail rides will wind you around our pine forest, and whisk you away from reality when we take a short stroll through our cedar and hardwood bush. Let the wind play in your face when we travel through our hay fields and along the Trans Canada Trail. We have just added 3 new trails through our hardwood bush and are hoping to start a 4th for your riding experience! It is not uncommon to see lots of wild life on our property such as deer, wild turkeys, porcupines, different birds, several varieties of butterflies, fox, squirrels, chipmunks, turtles, raccoons, and coyotes.
​
Our horses are family members first and many of them have been with us 9 to 30 years now. We NEVER farm our horses out over the winter months, as some riding stables do, to save on feed costs or avoid having to do chores in the winter. We also do not find them new homes once they reach "retirement" age. They have been there for us when we needed them. We will always be there for them and make sure they enjoy their home until their last days when they are buried in a special place.
​
We also only use ORTHOFLEX (Ortho flex) saddles on our horses. These are orthopedic saddles that conform to our horse's backs ensuring a pleasurable ride for them as well as their rider. We are certain you won't mind the thick memory foam in the seats either!